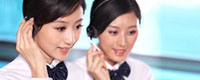 Name: Lynn TAO
Tel: +86-512-57784916
Fax: +86-512-57784916
E-mail: info@lwmedicaltextile.com
Add: Pengqing Rd. #39, Huaqiao Town, Kunshan City, Jiangsu Province 215332, China.


Product name : Hospital Privacy Curtain

Item : LW-CTN-260
Details:
Hospital Privacy Curtain
Hospital privacy curtain is hung around hospital beds in multiple- or single- bed wards to maintain patient privacy and is also called hospital cubicle curtain.
Hospital cubicle curtain fabric is required to be flame-retardant. LONGWAY's curtain fabric is made of flame-retardant fiber and the feature is inherent, which means it does not fade away after washing. Tests show that the fabric totally complies with BS 5867-2:2008 Type C performance requirements. The feature remains well after 50 cycles of standard washing (in accordance with BS EN ISO 10528: Automatic machines (Tyep A) at 75+/-3 deg C in ECE detergent with sodium perborate, tumble dry). It can also well meet NFPA 701 flammability requirements. Anti-microbial feature is also available. Relative tests are in accordance with AATCC 147-2004 standard.
LONGWAY's Standard fabric weight is around 220g per square meter. It can also be raised up to around 270g per square meter. Usual vertical length is 2.8m, including a 50-60cm top mesh to meet and/or exceed fire codes for fire sprinkler penetration. The mesh part also enables free air flow and light ventilation throughout the patient room.
| | |
| --- | --- |
| Material | 100% polyester |
| Width | 2.4M - 2.8M |
| Weight | 220g/square meter - 270g/square meter; |
| Mesh | 50cm, 60cm |
| Shrinkage | Lateral -0.8%; vertical-0.7% |
| Other features | Anti-mcirobial (AATCC) |
| | Flame-retardant (after 50 cycles of washing| BS5867-2:2008 Type C) |