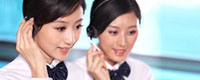 Name: Lynn TAO
Tel: +86-512-57784916
Fax: +86-512-57784916
E-mail: info@lwmedicaltextile.com
Add: Pengqing Rd. #39, Huaqiao Town, Kunshan City, Jiangsu Province 215332, China.


Product name : end stop for curtain track

Item : LW-TK-ES
Details:
End stop for cubicle curtain track.

Curtain Track and Accessories
LONGWAY curtain track is made of well oxidized aluminum alloy. It can be straight, L-shaped orU-shaped for enclosing patient beds, shower areas or anywhere personal privacy is required. L-shaped curtain track is usually used for multiple-bed wards and U-shaped ones for single-bed patient rooms. Tracks of white baked enamel finish are also available to match with white ceiling and walls.
Accessories for curtain track include end stop, pulley/glide, hook and splicing clamp. Each set of curtain track requires a pair of end stops. Usually 5 pulleys and 5 hooks are needed for each meter of track. Splicing clamp is used for U-shaped track as it is usually divided into two halves for delivery convenience; or it can also be used for connecting two straight tracks to make a longer one.
LW-TK-20 Curtain Track: 23mm*18mm*1mm
LW-TK-30 Curtain Track/ IV Pole track: 30mm*20mm*1mm