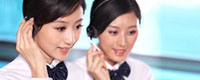 Name: Lynn TAO
Tel: +86-512-57784916
Fax: +86-512-57784916
E-mail: info@lwmedicaltextile.com
Add: Pengqing Rd. #39, Huaqiao Town, Kunshan City, Jiangsu Province 215332, China.


Product name : Hospital bed linen blue

Item : LW-HBL-1 blue
Details:
Hospital Bed Linen Size:

Duvet Cover
: 230cm*160cm
Flat Bed Sheet
: 270cm*170cm
Pillow Case
: 75cm*45cm
(
Coutoured Fitted Sheet
can be made according to hospital matress size.)
Hospital Bed Linen Material:
Various materials available for hospital bed linen. It can be pure cotton or polyester cotton, usually T65/C35.
Detailed categories include double-sided or single-sided khaki / twill, CVC stripes, plain cloth, etc.
Hospital Bed Linen Features:
resistance to chlorine bleaching
thermostability
pilling resistance
high color fastness
dyed hospital logo and name
Fabric Options:
COLOR:BLUE
100% COTTON
D-4 (C21S*108*58)
D-6 (C21S*100*50)
E-1 (C21S*68*60)
Y-5 (C32*130*70)
Hospital logo can be printed onto bed sheet, duvet cover and pillow case.